Farmhouse Sant'Ilario sul Farfa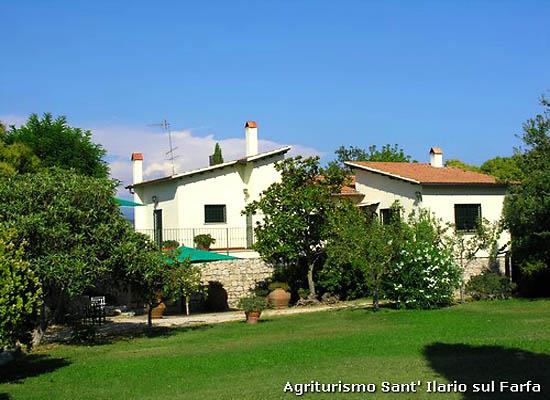 Description
Guest will be accomodated in two traditional restored and furnished farmhouses.
The comfortable rooms all have heating and private bathrooms.
Close to the farm, you have the "Abbey of Farfa (IV cent. a.C.), calm and majestic, wich seems to have given the area, "the rules of life"... this is the ideal place to relax and meditate, to take nice long walks, to read under the cool shade of the oak trees, and just stop time, to think about what we have that's so beautiful and precious in our lives "ourselves".
From the dining room, there is a magnificent panorama, where it is possible to taste typical dishes of the Sabina area, prepared almost completely with products produced locally on the farm.
From the farm "S. Ilario sul Farfa", it is easy to reach Rome by local train (far 12 km).
But for the those who love hiking, there are numerous other itineraries to follow, either on foot or on horse back, trough the enchanting hilly surroundings.
Travel along the lengthy "Farfa River" where, in the summer, it is possible to go for invigorating swims.
Within close proximity there are a tennis court, a riding school, and small lakes, where the novice fisherman can practise his/her fishing skills.

Produce: Extra virgin olive oil, wine, vinegar fruit jams, vegetables, fruit, eggs.

Informations Bed/Breakfast:
6 Bedrooms with private bath all with heating
Linen Service
Restaurant
Cooking Courses
Mountain Bike, Ping Pong, Billiards
Nature Hikes
Aut Door Fitnes
Swimmin Pool
(Within 1 km) a riding school, a Tennis, court, and small fishing lakes.
Reception Area for ceremonias and conference
Equiped for disabled person.

Other historical, religious and artistic places of interest are:
the prominent and imposing castle of "Rocca Sinibalda" and "Nerola", the sanctuaries of the "Santa Reatina Valley" and beautiful convent of the "Clarisse di Fara Sabina".
A few kilometers from the far, is the "Tevere Farfa Natural Reserve" , which depicts the major natural attractions of the Sabina area.


Services


• Apartments
• Rooms
• Restaurant
• Swimming pool
• Typical products

Attractions




• -

---

Activities




• -

How to reach it


By car: From the motorway A1
Exit at Fiano Romano and take the Salaria-Rieti direction. At km. 52,500 of Salaria, you reach Osteria Nuova place. Follow Castelnuovo di Farfa sign (S.P. 42); at Km. 6,500 of the "Provincial Road n. 42", just after a little town named Monte Santa Maria, pay attention, on the left hand side, to the sign of Azienda Agrituristica Sant'Ilario sul Farfa.

From Salaria: Leaving Rome, take the Salaria route towards Monterotondo- Rieti. At km. 52,500 of Salaria, you reach Osteria Nuova place. Follow Castelnuovo di Farfa sign (S.P. 42); at Km. 6,500 of the " Provincial Road n. 42", just after a little town named Monte Santa Maria, pay attention, on the left hand side, to the sign of Azienda Agrituristica Sant'Ilario sul Farfa.

By train from Rome Rome is easily reachable in about 30 minutes from Fara Sabina Station which is 15 minutes by car far from the Agriturismo Sant'Ilario sul Farfa.

Prezzi

Low season

€

0

Mean season

€

0

Hig season

€

0

Look the lastminutes


No Last Minute !
Add to your wishes list


Crea una lista delle tue strutture preferite

INFO
Pictures Gallery
Click to enlarge